Do you remember the scene in Back To The Future Part II when Biff Tannen opens up a safety deposit box and reveals to Marty the way he got so rich was due to a sports-betting almanac his future self gave his younger self? Oh how I wished I could have done the same thing as a young lad.
Then I grew up and got pounded by an unforgiving industry that allowed us to only eat what we killed. Damn, why does life have to be such a meritocracy?!
It's good to dream. Dreams are a tailwind of hope that make you believe one day all your wishes will come true. But daydreaming is a passive activity. Only losers dream without taking any action. Practice predicting the future in order to build a greater fortune!
Back To The Future
Don't tell anybody, but I actually bought a pocket-sized DeLorean time machine on eBay in early 2014. Unfortunately, the maximum time travel setting was only 30 months into the future. What do you expect for 10 bucks + shipping and handling?
When I got to the Fall of 2016, I saw my future self doing yoga in red underwear on a deck I built off a master bedroom. How weird! It was like a dream – seeing yourself without fully being able to see yourself without your future self seeing you. So I did what any good time traveler would do and took a snapshot.
What I realized was how peaceful and happy I was meditating under a fading sun. I didn't want to alter the time-space continuum by asking my future self how life was. Instead, I just observed. The fixer in Golden Gate Heights I was looking to buy in 2014 was the one!
Seeing the future gave me confidence to write this post, "The Best Area To Buy Property In San Francisco Today" in 2014. In the post, I argued that Golden Gate Heights, The Inner Sunset, and Parkside (District 2) were the most undervalued neighborhoods in a then, very hot real estate market.
The reasons I highlighted to buy included: ~40% lower pricing than eastern neighborhoods, a restriction in new single family home construction, the eventual creation of more public transportation out west, ignorance about the weather, prejudice against a middle class Asian demographic, Uber and Lyft slashing commuting costs, and the ability to buy ocean view property cheaper than any other international city in the world.
I even created a map in 2014 that gave some color on the various neighborhoods and where to buy.
After a 25% – 30% ramp in property prices in the Western district since 2014, real estate firms and the media are only now talking about how District 2 is the hottest area in San Francisco in 2016 while all other neighborhoods take a breather!
Here's what Paragon Real Estate group, producer of the most comprehensive SF real estate reports had to say about San Francisco in their October 2016 newsletter:
Here's their Hottest Neighborhoods In SF Map for 2016.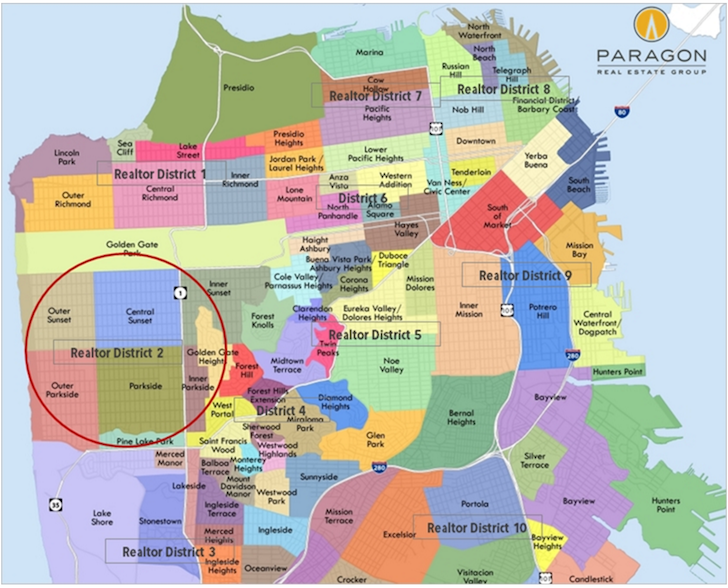 Amazing! More than two years later, now everybody is talking about Golden Gate Heights, The Sunset, and Parkside. You can read their full report here with more juicy data about what's going on. Curbed SF picked up the report and so did other major sites focused on San Francisco.
The $10 DeLorean time machine was so worth it! Unfortunately, I'm totally joking, or am I, about time travel. The real answer to predicting the future is all about HUSTLE BABY! Here's what's going on:
1) On the hunt every weekend. Because I love real estate, design, and fitness, I try to go to as many open houses as possible to see what's out there, speak to Realtors, and potential buyers. After speaking to hundreds of people a year about their thoughts on the market, it's much easier to get a real idea of where the market is going.
2) Aggressive international travel. Everybody who cried in 2014 about how expensive San Francisco is had NO CLUE how cheap San Francisco real estate actually is relative to other major international cities because they haven't done the proper comparison. When you actually go check out property in Hong Kong, London, Paris, Mumbai, Singapore, Vienna, etc. and compare what you can get in an apples-to-apples manner, you'll see very clearly the value embedded in SF real estate. How is the median home price in Vancouver higher than San Francisco, when there's not even a large, well-paying industry there? 
3) Thousands of data points from this site. One of the benefits of having a relatively large personal finance site is that I can see trends in real time. My analytics show me which articles are gaining in popularity from search and which articles are fading. Of course, I've still got to correctly analyze the data, but my data provides an edge in making better investment decisions.
4) SF landlord with over a decade of experience. When it took almost five weeks to find tenants for my Pacific Heights condo in May 2016 I knew the condo and rental market was in the middle of a downshift. In the past, the most it would take to find tenants was three weeks. If you are a real estate reporter who has been renting his/her rental for the past several years, it's hard to know what's really going on compared to the landlord that's in the weeds, speaking to dozens of prospective tenants and testing out different price points in the market.
So What's Next?
It's nice to make a 155% – 175% return on a $248,000 down payment in 2.5 years based on a prediction. That's $384,400 – $434,000 of equity that can be extracted to have one bender of a time in Vegas! Why even bother working with those type of gains?
But the good times are now over. San Francisco real estate above $2M will correct over the next two years by roughly 10%. Real estate under $2M will correct by ~5% because mortgage rates will stay low and six figure jobs are a dime a dozen here. In other words, the spread between high end and lower end will narrow.
The large supply of new condominiums in the SOMA/downtown district is putting downward pressure on the luxury market ($2M+). Eventually, the price weakness will work its way down. Potential buyers should not be in a rush to buy anything. Instead, be patient and wait to buy before the thousands of Uber and Airbnb employees get liquid through an IPO likely at the end of 2017 or 2018.
I am certain that six months after their respective IPO lockups, thousands of employees will sell their RSUs and options and convert their funny money into real estate. They will reignite the property market. Why do I believe this? No, I haven't gone to the year 2018, I've simply talked to hundreds of private company employees who all are itching to buy real assets.
As for District 2 (GGH, Inner Sunset, Parkside), I'm sticking with my prediction that if you can find a single family home here, especially one with an ocean view, you are going to outperform the rest of the SF market and the national market the longer you own.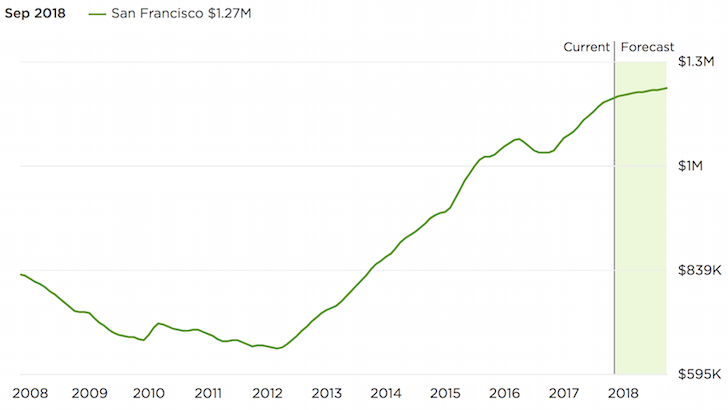 Practice Predicting The Future
I write with conviction because why bother writing otherwise? It's like having a Neutral rating on a stock as a research analyst. Weak. Get in the mindset of always taking action with your mind and body. Here are some concrete steps you can take to predict the future on something that interests you.
1) Formulate the positives in writing. It's not enough to make a verbal argument about why you believe something is a good buy. You must put fingers to keyboard and mindfully type out your arguments. You'll find that through writing, you'll catch things you hadn't previously thought of before.
2) Find the negatives. So many investments sound wonderful when you first come across them. It's kind of like meeting a hot guy or girl for the first time. You're infatuated; then you break up and ask yourself, "What the hell was I thinking?!" Your goal is to find the most bearish people and get them to tell you why they hate your idea. Listen carefully to their reasoning, find out their track record, and take careful notes. If you find everybody to be bearish, you might have an attractive opportunity on hand. The opposite could be said if everybody thinks your idea is a home run.
3) Make your predictions known. You don't have to publish your thesis for everybody to read like I do on Financial Samurai. But you need to have someone read your thesis to hold yourself accountable. When you turn out to be wrong, analyze why. When you turn out to be right, make sure you aren't confusing brains with a bull market.
You Have To Make A Move
If all you do is talk about an idea and never put money to work, you are wasting everybody's time. Making money is all about mobilizing capital and executing. Just make sure you invest in a risk-appropriate manner. There is no sure thing!
Here are 20 ways to get rich:
1) Solve a reoccurring problem
2) Study something that is in high demand
3) Work in a lucrative field
4) Aggressive saving
5) Invest in real estate over the long term
6) Invest in the stock market over the long term
7) Constantly invest more in yourself (education, presentation, hard skills, speech, EQ)
8) Not buy a car worth more than 10% of your gross income
9) Outwork everybody else
10) Predict the future
11) Join the right company in the right space based on your predictions
13) Have a tremendously optimistic attitude
14) Take on a mentor or two
15) Build a large network
16) Listen more than speak
17) Always be willing to try new things
18) Take calculated risks every few years
19) Not settle for the status quo
20) Be nice and trustworthy
Here are some other predictions:
* Self-driving cars won't be ubiquitous in five years like everyone says.
* 99% of startup employees would have done financially better if they got a non-startup job.
* The 10-year bond yield doesn't break 3% for the next 10 years despite the Fed raising rates by over 1% during this time.
Thinking about what you entered……..
You are in!
Please try again!
Contact links


David Mead 



Freelancer for Structural/Civil Engineering projects 
Upwork - Click HERE 
FIVERR -Click HERE
You can see my projects on youtube or on my Google Drive account
Google Drive 
Youtube